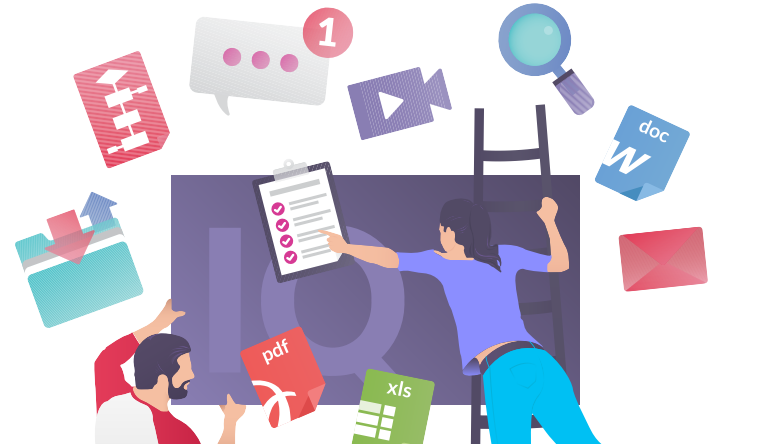 Smart companies know the best way to differentiate them from competitors it to do an outstanding job with information.
But most business fail to manage information effectively. This happens because information is all over the place and there's too much of it.
The main problem lies with data which is not structured properly. This includes documents, files, emails and all sorts of content.
According to research, 85% of data is unstructured and unmanaged - that's too much.
Not only this, most businesses don't even know what's happening with their information. So, managing it is completely out of the picture for now. They don't know where a particular piece of information is, and who's the owner of it.
On the other hand, structured data is easy to manage. This is the information sitting in systems like ERP, financial and CRM applications.
These systems are very secure and access to information can be controlled by business owners.
But what happens when this 'structured data' is exported as PDF or excel files? You guessed it right, it can be accessed by anyone - even the people who don't belong to your organisation.
Research tells us that there can be up to 7 copies of the same information floating around in email and shared drives.
The fact is, no one is looking after unstructured data.
We tried in the 80's with imaging for managing scanned documents, document management for managing electronic documents and computer output to laser disk, for managing report generated information.
But in the 90's, many of these solutions consolidated, but did that work out? Not really.
Fast forward to the 2000s, an industry called ECM emerged. It covered document management, web content management, search, collaboration, records management, knowledge management, digital asset management (DAM), workflow management, capture and scanning.
But ECM and document management are way too complex and haven't kept up with the changing needs of users.
They also might put a huge hole in your pocket as they're really expensive. Everything from training to forced upgrades - which, to be honest, are really annoying.
Demanding more, users are rejecting old, clunky software and are swarming to cloud-based file storage and file sharing apps. These are folders in the cloud that offer basic but convenient file collaboration. They may offer quick relief but have long lasting issues.
For these reasons, the communication and collaboration app industry was born promising better ways of working.
But all the documents, files, decisions, communications and ideas, all vital business data, are lost deep in message threads and social-like walls and spaces.
So what's next? Is there a way out of this?
And the answer to that question is a resounding yes!
Find more about a super platform that solves all of these problems and simplifies the flow of day to day business in our latest eBook.
Grab it now, it's free!